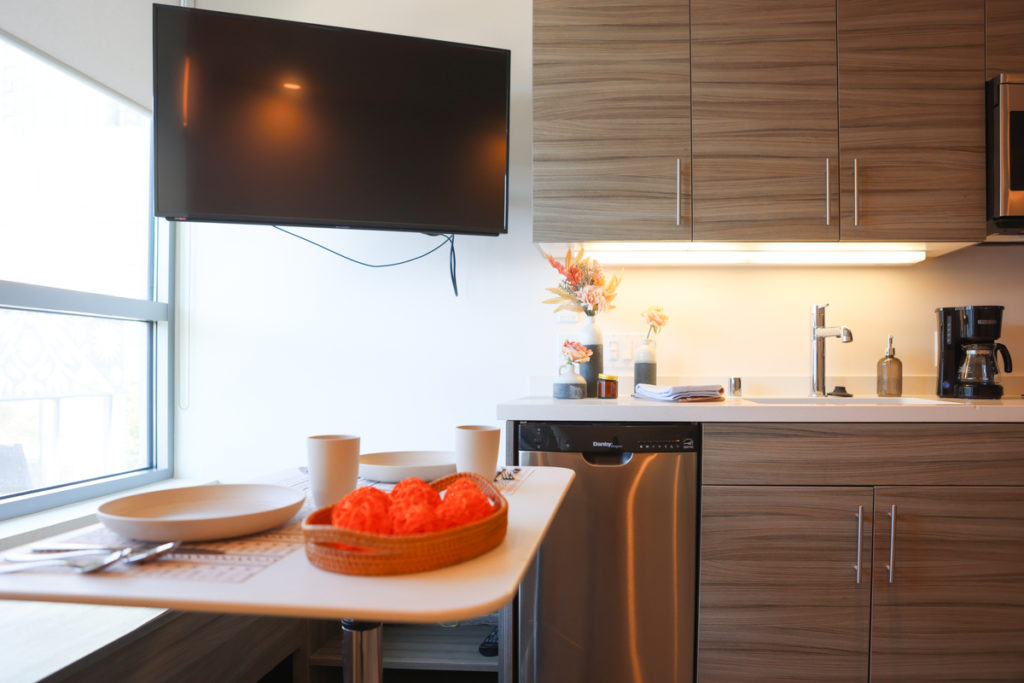 The Margot
The Margot – opened as a Permanent Supportive Housing site in April 2022 – is located in the South of Market district. This site embodies "supportive housing done right". A beautiful modern building, The Margot is made of 120 studio units for adults and 40 suites with three rooms for families. It offers a safe, joyful, inclusive, and welcoming home with Property Management services from DISH, on-site support services provided by UCSF Citywide Case Management, and dedicated family support through Compass Family Services
Amenities
The Margot has a 24-hour front desk and facilities staff to assist tenants in maintaining a safe and well-maintained home. Each unit has an individual bathroom and a fully equipped kitchen for total autonomy and self-agency. Residents can enjoy free Wi-Fi, a laundry room and a trash room on every floor, a rooftop garden complete with sculptures from artist Ken Kalman, and a multipurpose room for children's aftercare programs, community meetings, and other programmings. The building has an elevator servicing all 11 floors and is fully accessible.
Programming
Coming soon, in partnership with Brave Technology Coop, units will be equipped with Brave Buttons, an overdose detection device allowing residents to alert the front desk that they are in need of help, or would like to be checked on post use. DISH's Community Development Team hosts a community meeting and meal each month.
Compass Family Services will be hiring a Children's Activities Coordinator who will design an afterschool enrichment program for children living at The Margot. They will create a monthly calendar that will include on-site activities like arts and crafts, field trips, and movie nights. In addition, with the support of our Compass Behavioral Health Services team they will conduct child assessments and meet with parents to develop intervention plans as needed.